NOAH animal medicines training reaches milestone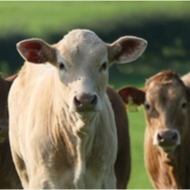 The programme has enrolled its 1,000th registrant.
A farmer training programme produced by the National Office of Animal Health (NOAH) and Lantra has reached a significant milestone.

The Animal Medicines Best Practice (AMBP) programme has welcomed its 1,000th registrant this week to its programme, which offers flexible and cost-effective training on the responsible and safe use of medicines.

Developed by NOAH, in partnership with key stakeholders from across the food supply chain, the programme raises awareness of antimicrobial resistance, and educates farmers on responsible use of antibiotics, taught with a combination of theory and practical applications.

Providing two options for the training, the programme can be taken by dairy, beef, sheep and pig farmers, or veterinary surgeons can deliver training to farmers using materials from the Veterinary Resource Centre on Lantra's website.

NOAH chief executive Dawn Howard said: "We are delighted that the AMBP training is proving its worth in supporting farmers as they demonstrate how they are supplying high quality, nutritious and safe food from healthy animals."

The farmer online e-learning training costs £65.99 +VAT per sector course, and for veterinary professionals, access to the Veterinary Resource Centre costs £549.99 +VAT.