Last reptile market in the UK loses venue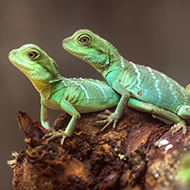 Animal welfare organisations are celebrating the announcement.
The Animal Protection Agency (APA) is celebrating as Doncaster Council announced that Doncaster Racecourse will no long host the UK's largest reptile market, in a crackdown on illegal market trading of exotic animals.

In a news release, APA released information about the evidence it recorded of unlawful animal trading and widespread animal suffering at the event.

APA director Elaine Toland, commented on the announcement: "We are delighted to see this event coming to an end. No animal deserves such maltreatment, and we are now closer than ever to completely eradicating wild animal markets in the UK."

Over the course of several years, the organisation has worked with English and Welsh councils to end reptile markets, resulting in Doncaster reptile market being the last of its kind in the UK.

Councillor David Shaw, chair of Doncaster Council's Licensing Committee, said: "I'm grateful for the work put in by the Animal Protection Agency over many years, which has brought us to this current position. APA has worked tirelessly and professionally to end potentially illegal trading.

"Whilst I accept that many exotic animal keepers care for their animals, I find this business abhorrent and something that should not take place in the UK – and certainly not in Doncaster."

Dr Clifford Warwick, a reptile biologist, commented: "In my view, the reptile markets at Doncaster have for years been a blight on the welfare of these wild animals, which are now well accepted to be highly sensitive to the kind of restrictive captive conditions and deprivations that are absurdly endemic to selling pets via makeshift stalls.

"The Animal Protection Agency, Doncaster Council, and the venue managers deserve high praise for their commitments to safeguarding animal welfare and mirroring the public conscience, which strongly rejects abusive treatment of wild animals for spurious reasons."