Online veterinary conference to raise funds for Ukraine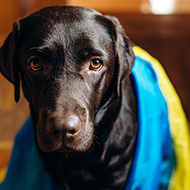 Vets for Ukraine CPD event will include more than 10 hours of lectures.
The Federation of European Companion Animal Veterinary Associations (FECAVA) is teaming up with The Webinar Vet to raise funds for the emergency effort in Ukraine.

The collaboration will take the form of a virtual CPD/CE session on Saturday, 9 April, from 10 am to 1 pm (9 am-9 pm BST), and will include more than 10 hours of lectures on an array of veterinary topics delivered by experts across the globe.

Funds raised by the event will go towards the Appeal of the Disaster Emergency Committee and Four Paws. To participate, register for free on The Webinar Vet website and select where you would like to donate.