SRUC to hold strangles event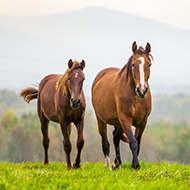 The talk will be targeted at horse owners.

Scotland's Rural College (SRUC) is holding an event for horse owners to promote Strangles Awareness Week (SAW), and to make owners aware of the dangers of Strangles.

The event is virtual, and will be held from 3 – 4pm on Thursday 21 April, ahead of SAW on 2- 8 May.

Head of welfare and behaviour at Redwings Horse Sanctuary, and Chair of the National Equine Welfare Council, Nic de Brauwere, will discuss strangles, and how horse owners can be better prepared to protect their yard.

"SRUC staff and students are delighted to be participating in SAW 2022," said Alison Braddock, marketing and business development manager at SRUC.

"We have been supporting the SAW initiative since it began in 2019 and SRUC Veterinary services, which runs the Premium Assured Strangles Scheme, will be linking up with academic colleagues to promote a better understanding of strangles prevention to students, clients and stakeholders."

'Strangles – how it teaches us to be better horse owners' is free to attend, and anyone interested in attending can register here.


Image (C) Scotland's Rural College