New strain of Hendra virus discovered in Australia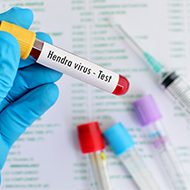 Findings highlight the importance of ongoing disease surveillance programmes.
Researchers at the University of Sydney have detected a new strain of Hendra virus that is a cause of fatal illness in Australian horses and a risk for virus spillover into humans.

Authorities have identified two cases of the new variant - HeV-g2 - so far, with the most recent confirmed near Newcastle, New South Wales, in October 2021.

According to the World Health Organization, Hendra virus infection is a rare emerging zoonosis that causes severe and often fatal disease in infected horses and humans. Fruit bats - also known as flying foxes - are the natural hosts of the Hendra virus.

Fruit bats are a protected species, playing a crucial role in our ecosystem by pollinating native trees and spreading seeds. They transmit the virus to horses via exposure to virus-laden fluids such as urine when horses graze near or below trees with feeding bats.

There have been seven human cases of Hendra virus since 1995, and all had been exposed to horses infected with Hendra. Researchers say this latest discovery highlights how ongoing disease surveillance programmes are crucial to detecting emerging diseases.

Included in this is examining scenarios where new viruses and emerging diseases are likely to come into contact with domestic animals and humans, such as vets. This action forms the basis of Sydney University's new 'Horses as Sentinels' programme, which led to the detection of the new Hendra virus variant.

Dr Edward Annand, from the Sydney School of Veterinary Science, commented: "For a long time, there has been discussion among international organisations about the need for co-operation across multiple research disciplines to monitor for any risks of emerging diseases, but this is very hard to achieve.

"This is an example that it can play out successfully - there is value in bringing together a team with multiple perspectives, using their strongest tools to improve disease surveillance."

The findings are published in the journal Emerging Infectious Diseases.