Vet nurses invited to free dermatology event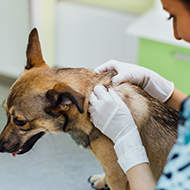 Innovative session takes place ahead of the BSAVA Congress.

Veterinary nurses are being invited to join a free event in Manchester looking at 'innovative solutions for itchy pets'.

Hosted by the Veterinary Nurse Dermatology Group, participants will learn more about the field of dermatology and gain valuable new skills.
Lidiia Alaverdova DVM, founder of Vet Reflections will lead the session, and veterinary nurses will learn how to apply design thinking within a dermatology clinic.

The event takes place at Manchester Central, Petersfield, on Wednesday, March 23 - ahead of the BSAVA Congress. For more information and to register your place, visit vetnursedermgroup.co.uk/event-sign-up