Porcupine pufferfish gets beak trimmed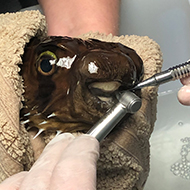 Goldie the pufferfish can eat again after the unusual procedure.

A porcupine pufferfish named Goldie is feeling un-beak-lievable after her unusual beak trimming treatment.

Goldie, a five-year-old porcupine pufferfish, had a beak so big she could hardly eat – but veterinary specialist Daniel Calvo Carrasco, and veterinary nurse Debbie Addison, soon sorted out her problem with a rare and unusual treatment, by trimming down her beak.

Daniel, who is a specialist in zoo and wildlife medicine, and avian medicine and surgery, said: "Porcupine pufferfish teeth are known as beaks and grow continuously throughout their lives.

"They're usually kept short naturally, as they're worn down on their regular diet of hard-shelled foods but, while these foods are provided in her home environment, she is not as forthcoming in eating them as her other tank mates.

"As a result, her upper beak grew to the point where it was hindering her ability to eat effectively."

Transporting and treating a large tropical fish is no easy feat, and the procedure required a lot of careful preparation. Goldie arrived at Sandhole Veterinary Centre in a large watertight container with water from her home tank, and a fish anaesthetic was then put into the water.

Daniel explained how the procedure was carried out: "To support her further, the water was oxygenated throughout. This meant she was still breathing nicely throughout but was able to be held for brief periods out of the water without becoming too stressed."

Not only did the team have to figure out how to perform the procedure on Goldie, they also had to account for porcupine pufferfish's extra special defence mechanism – inflating their bodies to twice the size and activating sharp spines.

Explaining how they were able to prepare for this, Daniel said: "Debbie was able to hold Goldie in a damp towel to prevent her becoming too dry, while also ensuring she was protected if she did trigger her defence mechanism to inflate her body and activate her spines.

"It was during those brief periods out of the anaesthetic water that I was able to use a dental burr to cut through her upper beak and reduce its length by half."

The procedure went well, and after 10 minutes, Goldie was swimming around again with her brand new smile!
Image (C) Sandhole Veterinary Centre