New collaboration to empower VNs to 'speak up for cats'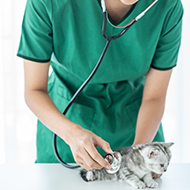 BVNA and International Cat Care to champion feline health and welfare.

A new collaboration that aims to empower veterinary nurses to 'speak up for cats' has been announced by the BVNA.

BVNA president Alex Taylor - also known as 'The Cat Nurse' - has revealed International Cat Care (iCatCare) as her charity of choice for her presidential year.
A passionate advocate for felines, Alex believes an organisation supporting veterinary professionals and owners to improve feline welfare was a natural fit.

Commenting on her decision, Alex said: "Selecting iCatCare as the chosen charity for my presidential year was an honour to do. Not just because of my passion for cats, but because iCatCare and their veterinary division ISFM have always supported and championed veterinary nurses.

"There are so many veterinary nurses out there who have a keen interest and passion for feline welfare, and we have a huge role to play in promoting feline wellbeing, whether that's in a clinical environment or through cat owner education."

She added: "I am very proud to be part of the feline veterinary nursing and BVNA communities, so this collaboration is very dear to my heart. I have no doubt that the partnership between the BVNA and iCatCare will benefit the veterinary nursing profession and help improve feline welfare for many years to come."

The veterinary division of iCatCare, The International Society of Feline Medicine (ISFM), provides resources to help veterinary nurses learn and apply their knowledge of feline medicine in practice.

ISFM programme manager, Sarah Collins, said: "As an RVN, I hugely appreciate the work carried out by the BVNA to support nurses and represent and promote our profession. I am therefore delighted to be working with them to enhance knowledge of feline physical health and mental wellbeing to improve feline welfare via the veterinary nurse community."

This year marks the 10th anniversary of ISFM's Cat-Friendly Clinic Programme and Nathalie Dowgray, who is head of the ISFM, said its success is in no small part due to the support of RVNs.

"Collaboration with BVNA will be a fantastic step in our Cat-Friendly Evolution'," she said.