Yorkshire RVN warns dog owners after mystery illness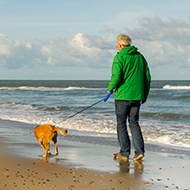 Practices "inundated" with pups suffering sickness and diarrhoea.

Dog owners are being urged to avoid walking their pets along the North East coast following multiple reports of animals falling seriously ill.

Yorkshire Coast Pet Care posted a warning on its Facebook page urging people not to take their dogs onto the beaches until local authorities have investigated the matter.

Veterinary nurse and Yorkshire Coast Pet Care Owner, Brogan Proud, wrote: "I work within several practices up and down the North East coast and we have recently been inundated with dogs coming off the beaches with vomiting and diarrhoea.

"Personally, until the local authorities have got to the bottom of it, I would not recommend taking your pets on the beach for the foreseeable future. I have been in touch with governing bodies, and they are currently looking into it."

She adds: "If your dog is showing symptoms please make the local authorities aware as well as seeking veterinary attention should your pet need it."

The post prompted replies from local dog owners who described their experiences of the illness in recent weeks.

One pet owner said: "I walked my two-year-old on Whitby beach on New Years Day and the next day sickness and diarrhoea. I have never seen my dog so lethargic and literally not moving".

Another wrote: "My dog has been poorly after visiting Redcar beach on Bank Holiday Monday.. just picking up today so seven days ill; vomiting and diarrhoea, lethargic and really poorly... dog walkers beware."

The Department for Environment, Food and Rural Affairs (Defra) said that it is aware of the situation and is in contact with APHA over the reports, adding: "We are not aware of any link with the issue of crustaceans washed ashore in the area late last year."