Gut bacteria transplants could ease inflammatory conditions in dogs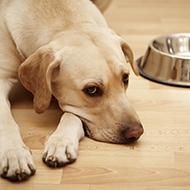 The results of a study exploring this are currently being analysed.
Researchers at the University of Edinburgh's Royal (Dick) School of Veterinary Studies are investigating whether gut bacteria transplants could help to manage inflammatory gut conditions in dogs.

The potential of managing chronic gut conditions with beneficial gut bacteria in faeces from healthy dogs transplanted into affected dogs is being examined and studied as a potential treatment for alleviating long-term illness.

Dr Silke Salavati commented on the research: "Transplantation of faecal microbiota holds much promise to address chronic gut conditions, both as a novel treatment to ease the condition in affected dogs and also as an alternative to the long-term use of antibiotics and probiotics."

In the first study of this potential treatment, an enema was prepared using the stool of healthy dogs, and was administered to dogs affected by chronic inflammatory enteropathy.

These dogs were then monitored for changes to the composition of microbiological organisms in their gut by analysing their faeces, and the early results of this suggests that this treatment gives temporary improvement.

The results of a separate research project are also currently being analysed, which is exploring the potential for altering the gut bacteria of healthy dogs by managing the types of fibre in their diet.

In this study, dogs were fed one of three different types of fibre twice per day for three weeks, and had their stool analysed once per week to monitor the composition and diversity of microorganisms and other substances in the gut, to discover the impact of diet on this.

Complementing the transplantation study, findings from this study could establish whether the composition of bacteria in the guts of donor dogs could be managed to create bespoke transplants for dogs with chronic inflammatory enteropathy.