Chief vet urges 'urgent action' over avian flu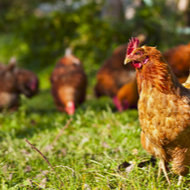 Defra warns bird keepers to act now or risk losing flocks.
The UK's chief veterinary officer, Christine Middlemiss, is encouraging all poultry owners in the UK to undertake the urgent biosecurity measures necessary to keep their birds safe from avian influenza.

With the UK facing its largest ever outbreak of avian flu, the Government introduced new housing measures in November, meaning that poultry keepers are legally required to keep all birds indoors.

As well as following the housing order, bird keepers are urged to follow strict biosecurity measures, including washing hands, change or clean clothing, and disinfect footwear before entering bird enclosures.

Christine Middlemiss reminded poultry keepers: "We have taken swift action to limit the spread of the disease including introducing housing measures. However we are seeing a growing number of bird flu cases both on commercial farms and in backyard birds right across the country.

"Many poultry keepers have excellent biosecurity standards but the number of cases we are seeing suggests that not enough is being done to keep bird flu out. Whether you keep just a few birds or thousands you must take action now to protect your birds from this highly infectious disease.

"Implementing scrupulous biosecurity has never been more critical. You must regularly clean and disinfect your footwear and clothes before entering enclosures, stop your birds mixing with any wild birds and only allow visitors that are strictly necessary.

"It is your actions that will help keep your birds safe."

The government's guidance on avian influenza, including biosecurity advice, can be read here.