Vets respond to UK-Australia trade deal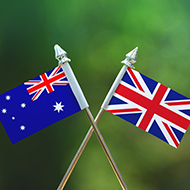 BVA shares welfare concerns over tariff-free access to products.

The BVA has responded to the UK and Australia finalising a trade agreement, raising concerns over tariff-free access to goods that do not meet Britain's high animal welfare standards.

The UK-Australia trade deal was agreed in principle in June, but it was finalised on Thursday (16 December) by international trade secretary Anne-Marie Trevelyan during a virtual ceremony. It will now be laid before both Parliaments for scrutiny.

Under the agreement, tariffs will be removed on most Australian produce, including meat and meat products. The move, set out in the initial agreement, prompted calls for the Government to clarify how it will protect the UK's higher animal welfare standards.
A chapter has since been added to the agreement that contains provisions on animal welfare and antibiotic resistance, yet the BVA warns this does not go far enough.

Senior vice president James Russell said: "BVA has always maintained that animal health and welfare standards must be safeguarded when it comes to any new trade deals. Although the inclusion of a chapter on animal welfare and antibiotic resistance is a positive step, the UK offering tariff-free access to products which do not meet our high standards of animal welfare is a grave concern and sets a very worrying precedent.

"It is vital that the Trade and Agriculture Commission is now given the time it needs to carefully scrutinise the free trade deal with Australia, and for BVAParliament to ensure that the UK's hard-won reputation for high standards in animal health and welfare is neither undermined nor compromised. We need to protect the livelihoods of our farming communities as well as making sure that consumers in the UK can still access the high quality, high welfare produce that they deserve and expect."

His words were echoed by National Farmers Union (NFU) president Minetter Batters, who had also previously expressed concern that animal welfare standards could be negatively impacted by the free trade deal.

NFU president Minette Batters said: "As we feared following the agreement in principle, there appears to be extremely little in this deal to benefit British farmers. We will analyse the detail in full, but on the face of it, this is a one-sided deal.

"It's also difficult to discern anything in this deal that will allow us to control imports of food produced below the standards legally required of British farmers, for instance on land deforested for cattle production or systems that rely on the transport of live animals in a way that would be illegal here.

She added: "I hope that MPs will now take a good, hard look at this deal to see if it really does match up to the Government's rhetoric to support our farmers' businesses and safeguard our high animal welfare and environmental standards. I fear they will be disappointed."