University of Surrey announces Animal Health Innovation Network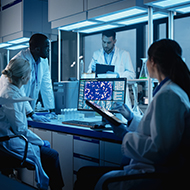 Network will address zoonotic diseases and antibiotic resistance.

The University of Surrey has announced a new network, The Animal Health Innovation Network, which will tackle animal-to-human virus transmission, antimicrobial resistance, sustainable food supply and pet welfare.

Partnering with organisations across Surrey and Hampshire, the network will also see the university working with the Enterprise M3 (EM3), Local Enterprise Partnership, and centres including The Pirbright Institute, the Animal and Plant Health Agency (APHA), the Veterinary Medicines Directorate (vmd) and Sparsholt College.

Professor Alasdair Cook, head of vHive, the University of Surrey's veterinary health innovation hub, said: "I am delighted to be working with prestigious organisations across the region as part of the Animal Health Innovation Network.

"The network will use the University of Surrey's cutting-edge expertise in machine learning and artificial intelligence to create new veterinary solutions that benefit the health of our pets who, of course, play a critical role in supporting our mental and physical health.

"Another goal is for the network to contribute to the global discussion of how we make our food supply more sustainable so we can eliminate hunger and improve the health of our planet."

The network will also work alongside industry partners, including Zoetis, the global animal health company.
Dr Theo Kanellos, director of business development and commercial alliances at Zoetis commented: "The Animal Health Innovation Network has a unique concentration of expertise and infrastructures through their partnering organisations that could bring disruptive innovation in digital, data analytics, diagnostics, biodevices, vaccines, and overall control of animal infectious diseases.

"This novel type of public-private network will accelerate the development and adoption of new technologies that could contribute to the quest for global sustainability."