Hot topics to be discussed at equine research conference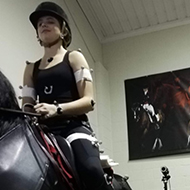 The Saddle Research Trust's Conference will discuss the latest views within the industry.
'Hot topics' in the equestrian industry will be considered and discussed at the Saddle Research Trust's 4th International Conference, which will be held virtually on Saturday 11 December 2021.

These hot topics will include riders' self-perception of body image, and road-associated risks for riders.

Research analyst Dr Dee Pollard will review the results of a recent study on current figures of road incidents involving horses and perceptions of road-associated risk in equestrians, and Dr Céleste Wilkins, researcher and lecturer in biomechanics, will discuss dynamic technique analysis of dressage riders.

Lecturer and post-graduate student at the University Centre Sparsholt, Sofia Forino, will present the findings of her study on female riders' self-perception of body image. She will discuss rider perceptions of judge and coach body image bias and highlight the relationship between female equestrian body image and self-consciousness.

Sofia will also explore effects of breast size, and what effect this has on both participation and performance success.

The session will close with an interactive Q&A, and Olympic standard dressage rider Richard Davison will close the 'Hot topics' presentations with his own reflections on the topics.

Tickets for the conference are available here.