Study pinpoints risk factors for falls in eventing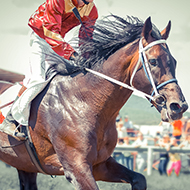 Findings will help make the sport safer for horses and athletes.
A study by the University of Bristol has identified characteristics associated with an increased risk of falls in eventing.

Researchers found that horses competing at higher levels, horses competing over longer courses, more starters at the cross-country phase and less experienced athletes are all factors that might contribute to a fall.

Writing in the Equine Veterinary Journal, the team recommends ways to reduce the chances of a fall, such as adjusting minimum eligibility requirements (MERs) to ensure horses and riders always compete at an appropriate level.

Bristol Veterinary School's Dr Euan Bennet, explains: "Eventing is an exciting equestrian sport, but horses and riders sometimes get injured during competitions.

"We have gained a detailed understanding of the risk factors that make horses more likely to fall so that we can provide actionable advice to governing bodies on how to reduce the number of horse falls, and therefore injuries and fatalities among horses and riders."

The study is the first of its kind in more than 20 years. Other factors highlighted by the paper as contributing factors to a fall include:


horses that had previously made fewer starts at the level of their current event
male human athletes are at increased odds of experiencing a fall compared with female athletes
Younger athletes are at increased odds compared with older athletes.

Looking ahead, the team hopes the FEI will use the new evidence to implement evidence-based rules for eventing to protect the safety of athletes and horses without compromising on competitiveness.