Canine-human cancer finding could advance new therapies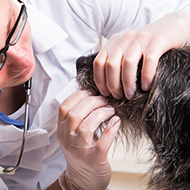 Researchers confirm molecular similarities between oral tumours found in dogs and people.

US researchers have discovered a striking resemblance between a non-lethal canine tumour and a devastating tumour in people, paving the way for new treatments in both veterinary and human medicine.

The study by Cornell University found that canine acanthomatous ameloblastoma (CAA) – a common tumour of dogs – is molecularly similar to a rare oral tumour in humans known as ameloblastoma (AM).

Scientists had previously noted a resemblance between CAA and AM, but it is not until now that any molecular similarities have been confirmed. The findings are published in the journal Scientific Reports.

"This research was a good example of a full cycle of translational research," commented lead author Dr Santiago Peralta, a veterinary dentist and oral surgeon at the University's College of Veterinary Medicine. "We took something we were dealing with in the clinical setting, studied it in the bench setting and are now hoping to use it to help veterinary patients and, potentially, humans."

Previous research by Peralta and his team revealed both AM and CAA shared mutations in a well-known signalling pathway, known as the RAS-RAF-MAPK pathway. In this study, the team analysed a large genomic dataset generated by the Cornell Transcriptional Regulation and Expression Facility to better understand the biological consequences of these mutations.

At the same time, the team compared the CAA tumours with another common canine tumour (oral squamous cell carcinoma) and healthy gum tissue, made available through the Cornell Veterinary Biobank. The team also used genomic data from human tissues to run comparisons.

Through analysing these different tissues, Peralta and his team were able to see that the mutations they had identified in their earlier study were largely responsible for the tumours they were seeing. They also found that CAA and AM are very similar at a molecular level - giving strength to the idea that dogs represent a potentially useful natural model of the human tumour.

"All the dysregulated molecules and pathways in CAA tumour tissues were consistent with the mutations we'd found and remarkably similar to those observed in AM," said Peralta.

The team is now looking to establish in vitro and in vivo models of different canine oral tumours that can be used to test potential drugs. It is hoped that any drugs that prove effective in treating oral tumours in dogs may also have the potential to help human patients.