Penguins post their Christmas wishes to Santa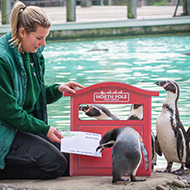 London Zoo posted some adorable footage of their penguins getting festive.

Penguins at ZSL London Zoo have been busy posting their Christmas wishes to Santa Claus, to launch the Zoo's festive activities and celebrations.

Adorable footage released by ZSL shows a zookeeper helping the penguins to post a letter through a 'North Pole' post office box.
The letter, addressed to Santa and signed 'love, the penguins', is passed back and forth through the post office slot by the curious penguins' beaks.

Jessica Jones, the zoo's penguin keeper, said: "We're pretty sure Santa now knows to get something fishy for the penguins this year, but from this Saturday, we're inviting visitors to become elves-in-training and help make sure Santa brings the perfect pressies for all the other animals."
Watch the penguins post their Christmas wishes here.

Images and footage (C) ZSL London Zoo