Dog lovers urged to avoid buying 'flat faced' breeds for Christmas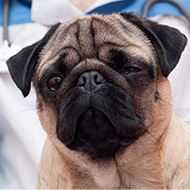 Figures suggest searches for French bulldogs and bulldog puppies peak during November.
Potential dog owners are being warned against buying brachycephalic breeds ahead of the festive season in a bid to crackdown on puppy farming and the 'international smuggling of these dogs by profiteering cruel traders'.

The warning from the Brachycephalic Working Group (BWG) comes as new figures show that searches for French Bulldogs and Bulldog puppies rose during the second half of 2020, peaking on 21 and 1 November, respectively.

In light of their findings, major stakeholders from the BWG, including the BVA and Dogs Trust, are calling on the public to 'stop and think before buying a flat-faced dog' - especially as the pandemic has impacted on the supply of responsibly-bred puppies.

Dr Dan O'Neill, chairman of the BWG, said: "Unlike some commodities which are reportedly going to be in short supply this Christmas, and which we're being advised to 'buy now to avoid disappointment later', puppies are living, sentient creatures and must not be bought on a whim.

"We are particularly worried about rising demand for flat-faced puppies who often suffer from painful health conditions. This demand, spurred in part by the pandemic, coupled with rife puppy farming, rogue breeding and international smuggling of these dogs by profiteering cruel traders, means it's incredibly difficult to responsibly source one of these dogs at any time of the year.

He continued: "Dog welfare concerns only grow at Christmas due to impulsive puppy buying decisions and gift-giving. With this newly released data showing a trend for 'Christmas puppies', the UK's leading pet welfare experts are urging would-be owners to avoid buying any new four-legged friend at Christmas."

Research by the BWG also found that during 2020, Kennel Club registrations for the French bulldog and English bulldog rose to record levels, increasing by 17 per cent between 2019 and 2020.

Catherine Dobbie, Dogs Trust veterinary surgeon, said: "As our famous slogan states, 'A Dog is for Life, not just for Christmas'. Welcoming a dog into your life is a wonderful thing, but it is big commitment and one that needs to be thought through."

Justine Shotton, BVA President, added: "We'd advise owners against getting a dog of any breed around Christmas time, as it's a big commitment that extends far beyond the festive period and requires very clear and careful consideration."