Avian influenza housing order declared in Yorkshire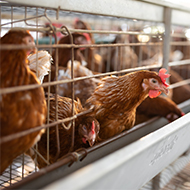 Keepers in the North of the county are now legally required to keep their birds indooors.
A new avian influenza prevention zone has been declared in North Yorkshire following the identification of H5N1 avian influenza at a number of premises.

The requirement means all bird keepers in Harrogate, Hambleton and Richmondshire are now legally required to keep their birds indoors and follow strict biosecurity measures.

Several other cases of H5N1 avian influenza have also been confirmed in recent days at sites in Essex, Cheshire and Cumbria. On Monday (22 November), the disease was identified near Wells-next-the-Sea, North Norfolk.

An Avian Influenza Prevention Zone (AIPZ) has been in place across the UK since 3 November, under which bird keepers must follow strict biosecurity measures to protect their flocks.