Equine conference to discuss gait analysis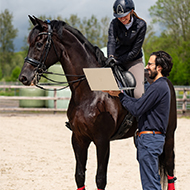 The benefits of gait analysis for equine performance and welfare will be considered.
The Saddle Research Trust has confirmed that gait analysis will be discussed at its 4th International Conference.

Led by Dr Filipe Serra Bragança, from the University of Utrecht Faculty of Veterinary Science, the second session of the day will discuss the current position of objective gait analysis, and its future role in assessing performance horses.

Several different aspects of gait analysis will be discussed, including kinetic, kinematic and surface electromyography, as well as applications and consequences of gait analysis for equine athletes, focusing on welfare and quantifying performance.

Using sensor technology for gait analysis to regularly monitor horses will also be explored, alongside the pros and cons of different types of gait analysis systems, and future development goals in the field.

Dr Bragança commented: "The introduction of modern technology into equine sports medicine has started a revolution.

"We have now the tools and knowledge to better quantify many aspects of our field that will ultimately lead to better performance and welfare of the equine athlete."

The conference, which is exploring the 'Welfare and Performance of the Ridden Horse: The Future' will be held virtually on Saturday 11 December 2021, and tickets are available here.