PDSA asks pet owners to 'paws for traffic'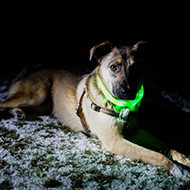 The charity is encouraging owners to make pets visible in the dark.
Veterinary surgeons from the UK's largest national veterinary charity PDSA are encouraging pet owners to 'protect their pets' as the evenings get darker over autumn and winter.

First and foremost, the charity is encouraging pet owners to have pet insurance in place, to assist in case of road accidents. PDSA veterinary surgeon Lynne James suggested that pet owners ensure they have pet insurance, "before [they] do anything else."

In a press release Lynne offered pet owners advice, including the use of reflective collars for ease of visibility, letting cats out in daylight hours only, and keeping dogs on a short and strong lead.

Lynne also advised that dog owners use simple commands to keep their pets safe whilst outside in the dark: "While you won't be able to teach your canine companion to look left and right, you can use simple commands to help keep them safe by busy roads.

"When approaching a road with your dog on a lead, ask them to 'sit' and 'wait'. Once your dog has sat calmly and you're happy it's clear, give the command to 'walk' and cross the road together carefully."

The charity is also stressing the importance of visibility in the dark, and is encouraging dog owners to wear brightly coloured clothing or visibility jackets whilst walking dogs at night, and suggests that owners could provide their dogs with high visibility dog coats or LED tags and collars for safety.

This 'Paws for traffic' campaign comes as part of Road Safety Week (15 – 21 November), and PDSA hopes that this advice will make pet owners more aware of the dangers that roads and traffic can pose to pets.