Governments pledge action and investment for sustainable farming at COP26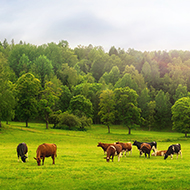 The UK was among those pledging urgent action to protect nature at the conference.

Forty-five governments, including the UK, have pledged urgent action and investment to shift to more sustainable ways of farming at the COP26 Nature and Land-Use Day, which took place on 6 November.

In a press release, the Government said that urgent action on land use is needed as demand for food increases, and that more sustainable practices are required to help farmers adapt and make the UK's food system more resilient for the future.

The commitment includes a pledge to support internationally agreed 'Action Agendas' which outline steps that governments, farmers and others can take through policy reform and innovation, in order to make the necessary changes to food systems to make them sustainable.

As part of the Prime Minister's commitment to spend at least £3 billion of International Climate Finance on nature and biodiversity, the UK intends to launch a new package to help protect five million hectares of rainforests from deforestation, spending £500 million on this.

This funding will create green jobs in both sustainable agriculture and forestry, and will generate £1 billion of green private sector investment to tackle climate change globally.

The UK has also outlined a range of new funding commitments from the £3 billion fund for nature, including an investment of more than £38 million into a new global research initiative.
This will be acheived through the world's leading agricultural research organisation, the CGIAR, which will address the climate crisis and protect nature while also advancing gender equality, poverty, reduction, and food and nutrition security.

At COP26, the UK Government, along with 27 other governments, came together through the Forest, Agriculture and Commodity Trade (FACT) Roadmap, which was created at the conference to deliver sustainable trade on commodities such as beef, soy, palm oil and cocoa. This roadmap includes support for smallholder farmers, and improves the transparency of supply chains.

Environment secretary George Eustice commented prior to Nature and Land-Use day: "To keep 1.5 degrees alive, we need action from every part of society, including an urgent transformation in the way we manage ecosystems and grow, produce and consume food on a global scale.

"We need to put people, nature and climate at the core of our food systems. The UK government is leading the way through our new agricultural system in England, which will incentivise farmers to farm more sustainably, create space for nature on their land and reduce carbon emissions.

"There needs to be a fair and just transition that protects the livelihoods and food security of millions of people worldwide – with farmers, indigenous people and local communities playing a central role in these plans."

A more detailed account of the commitments pledged by governments, companies and organisations worldwide on Nature and Lane-Use Day at COP26 can be read here.