Big-headed turtles born at ZSL London Zoo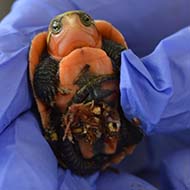 The species is critically endangered and under threat due to the illegal wildlife trade.
Three critically endangered big-headed turtles have hatched at ZSL London Zoo, after their parents were rescued from the illegal wildlife trade.

The four adult Platysternon megacephalum, or big-headed turtles, were brought to ZSL London Zoo in 2018, after smugglers had attempted to illegally import them into Canada labelled as toys.

Kimberly Carter, ZSL reptile keeper, commented on the new arrivals: "We had the expertise at ZSL London Zoo to give this solitary species the specialist care they individually needed, and we're pleased that this dedicated work has paid off with these three hatchlings.

"Big-headed turtles may not be conventionally cute to most people - with their oversized heads and long, whip-like tails - but they represent a vitally important and unique branch of the evolutionary tree and have much to teach us about animal adaptions.

"There is literally no other species like them on earth."

The three hatchlings have been named Ha, Thuy and Tim, after colleagues from the Asian Turtle Program of the Indo Myanmar Conservation, Ha Hoang, Thuy Thu Nguyen and Tim McCormack. ZSL works collaboratively with the Asian Turtle Program, which helps to rehabilitate rescued big-headed turtles in Vietnam.

Ha, Thuy and Tim will not be visible to the public for the time being as they grow, however, visitors can visit the four originally rescued big-headed turtles at the zoo's reptile house.