Critically endangered pine hoverfly larvae released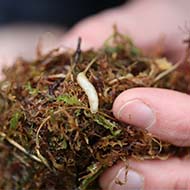 The project is led by the RZSS and RIC project.


Thousands of critically endangered pine hoverflies are being released into the wild this week by the Royal Zoological Society of Scotland (RZSS) and the RSPB-led Rare Invertebrates in the Cairngorms (RIC) project.

After a hugely successful breeding season for the rare native species at Highland Wildlife Park, over 3,000 pine hoverfly larvae will be released in three forest habitats in the Cairngorms National Park.

The first three of the releases occurred on Wednesday 20 October, at Forestry and Land Scotland's Ryvoan, Glenmore site, while the other two releases will happen in the coming days.

Pine hoverflies have not been seen in their adult form in the wild in Britain for over eight years, and play an important part in maintaining healthy ecosystems.

Dr Helen Taylor RZSS conservation programme manager, commented: "This is a very exciting day for pine hoverfly conservation in Britain. Following habitat loss over the past century, our pine hoverflies are on the brink of extinction, with the majority of the known native population being cared for by our charity's dedicated team at Highland Wildlife Park.

"It is absolutely incredible to be in a position to release over 3,000 pine hoverfly larvae into the wild this year after just 25 larvae were brought into our conservation breeding programme in 2019.

"Thanks to a huge amount of collaboration and support from our partners, funders and other conservation champions, including visitors to our parks, the future is starting to look brighter for one of Britain's most endangered species."
RIC project manager Genevieve Tompkins, said: "The key thing about the sites where we're releasing the larvae is that they are owned by organisations that are committed to managing that particular land for biodiversity benefits, meaning that the pine hoverflies we release will have the best chance possible.
"There has been some amazing work from the landowners, volunteers, and all our partner organisations in terms of identifying the best release sites to creating artificial pine rot holes at those sites to house the larvae.
"With another release planned for March, this really is a significant effort to establish vital new populations of this species, providing a lifeline before it's too late.
"We'll have to wait until we conduct surveys next September to see whether our work has led to successful breeding in the wild, but everything is looking a lot more hopeful that it did 12 months ago."