Project underway to protect new oyster species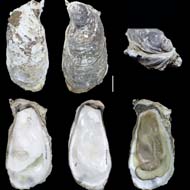 The species was discovered in the Muar River, Malasia.
A project is getting underway to protect a new species of oyster discovered in Malaysia.

The new species, named Crassotrea (Magallana) saidii was identified in the Muar River during a collaboration between Queen's University Belfast and Universiti Putra Malaysia.

While local fishermen have been aware of the species since the 1860s, it has not officially been named until now. Scientists were unconvinced that it differed from similar, more common species until they conducted a DNA test.

Dr Julia Sigwart from the School of Biological Sciences at Queen's, a mollusc taxonomist, explained: "You can't protect a species unless you know it exists through scientific validation, so it was important to make that distinction between it and any other species.

"Official validation helps manage sustainability as scientists have more influence in encouraging the government and those who fish to protect it. It also ensures it has the best possible market value when it is sold as food."

The new species has a relatively flat shell with brown scales and is around 120mm by 6mm in size. It is named after local businessman Md Saidi Bin Mohamed, who has been actively promoting research and conservation for the sustainability of the oyster since 2013.

Concerned about whether local fishing practices in the Muar River were sustainable, he contacted the Universiti Putra Malaysia to see if they could help. Currently, the oyster lives in one tiny estuary and may be threatened by urbanisation.

Dr Sigwart said: "The population does seem stable, but it's worrying that the only known occurrence of this species in the world exists in such a small area, and we don't know what is coming downstream that might threaten it.

"Tropical Southeast Asia is a very biodiverse region and this particular area of the Muar River is a rich and important habitat which can tell us a lot about climate protection and global biodiversity."

Dr Leena Wong from Universiti Putra Malaysia, who sent the samples for DNA testing, added: "Our research group at Universiti Putra Malaysia, which has specialist local knowledge of biodiversity, is now working to develop aquaculture approaches to increase the Crassotrea (Magallana) saidii oyster population.

"We are pleased that experts from Queen's University who have extensive knowledge of global biodiversity are supporting us in this important work."

Image (C) Queen's University Belfast.