MPs call for tougher action on puppy smuggling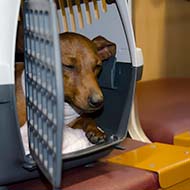 Government accused of 'twiddling its thumbs'.

MPs are calling for tougher penalties, including greater prison sentences, for individuals found guilty of smuggling puppies and other pets.

The Parliamentary Environment, Food and Rural Affairs Committee (EFRA) warns that current prosecution rates for pet smuggling are low and 'do not act as an effective deterrent'.

It is one of several recommendations made in EFRA's new report, Moving Animals Across Borders, which also calls on Defra to introduce a ban on animals younger than six months, heavily pregnant animals, and animals that have been subject to poor welfare practices.

Neil Parish MP, chair of the EFRA Select Committee, said: "While the Government twiddles its thumbs, bad actors are seizing the opportunity to bring animals - including kittens and puppies - over the borders, risking their welfare and the spread of diseases, with little fear of detection or punishment.

"Despite a drastically shrunk livestock export market, the Government is dragging its heels setting up the border controls that exporters of British breeding stock need. All of these issues identify glaring holes in the Government's current systems."

He added: "The solutions are ready, but the Government seems unprepared to press go. It must now demonstrate its willingness to accept the scale of the problems, and act with urgency to address the threats to British businesses, animal welfare and biosecurity."

Other recommendations set out in the report include the introduction of pre-import screening for non-endemic diseases that threaten the UK pet population. The report states: "This should be accompanied by the reinstalment of tick and tapeworm treatment requirements and a rabies titre test for pets when they are being brought into the UK."

The report also makes recommendations on farm livestock movement, horses, biosecurity, abattoirs, and veterinary capacity.
Defra response
A Defra spokesperson said: "The Government takes the issue of puppy smuggling, and other illegal importations and low welfare movements of pets, very seriously.

"It is an abhorrent trade which causes suffering to animals and puts the health of pets and people in the UK at risk.

"Our recently introduced Animal Welfare (Kept Animals) Bill commits to tackling unscrupulous traders by reducing the number of dogs that can be moved under the pet travel rules – and we have now launched a consultation on further proposals to crack down on this illegal trade."

Animal charity reaction
Dogs Trust veterinary director Paula Boyden welcomed the report's findings.

"If taken on board, the recommendations published today in the Environment, Food and Rural Affairs Select Committee's (EFRA) report would bring us one step closer to putting an end to the cruel puppy smuggling trade," she said.

"Dogs Trust has spearheaded the campaign to overhaul pet travel legislation for over six years, are at the coalface caring for illegally imported puppies and has provided mountains of evidence to the Government about what needs to change, based on what we see daily."

Cats Protection's director of veterinary services, Dr Maggie Roberts, added: "We agree that the Government needs to implement solutions now to protect pets, including cats and kittens.

"Long delays on bringing in these recommendations will only lead to more suffering for pets being transported into the UK. With demand for cats and kittens on the rise following the pandemic, it is essential the Government react quickly to stamp out pet smugglers intent on putting profit before welfare."