Welsh government announces glue trap ban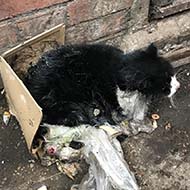 RSPCA Cymru welcomes the announcement.

The Welsh government has announced its plans to ban the use of glue traps in Wales, after two Senedd Members tabled legislative proposals from RSPCA Cymru to ban the devices.

In its policy response to the Agriculture (Wales) Bill's White Paper, the Welsh government confirmed its intention to "amend the Wildlife and Countryside Act 1981 to ban the use of snares and glue traps."

Designed to catch mice and other rodents, glue traps consist of non-drying adhesive coated boards of plastic, cardboard or wood. Animals caught in the trap often experience significant suffering, including ripping out patches of fur, breaking bones, and even gnawing through their own limbs in an attempt to escape.

The devices can also often be left unattended for a significant amount of time, causing any animals trapped to die slowly from dehydration, starvation or exhaustion.

Head of public affairs at the RSPCA, David Bowles, said: "These traps can cause immense pain and suffering to animals, and should have no place in modern Wales. So we're absolutely delighted that the Welsh Government has now announced plans to outlaw glue traps once and for all, as it outlines its next steps linked to the landmark Agriculture (Wales) Bill. This follows earlier announced plans to ban snares too.

"This latest announcement comes on the back of our successful #LawsForPaws campaign - which saw us launch a list of ten ready-to-go Bills, and our supporters urge Senedd Members to put these animal-friendly ideas into a Welsh parliamentary ballot for Member-proposed legislation. 


"Since 2017, we have received six reports in Wales of animals in danger from a glue trap - but we know many more incidents sadly won't be reported.
"Fortunately, we are now a big step closer towards a ban on torturous, cruel glue traps - and hope this will be one of a number of positive things the Agriculture (Wales) Bill delivers for animals, including banning snares, and incentivising farmers delivering higher standards of welfare on their farms."