VN Futures Interim Report published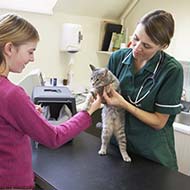 Report outlines key achievements of the first five years of the project.

The RCVS has announced the publication of the VN Futures Interim Report 2021, which provides an overview of the project's achievements over the past five years and a summary of its initiatives.

Launched in 2016, VN Futures is a joint RCVS and BVNA project resulting from the Veterinary Futures Initiative. The project aims to highlight veterinary nursing as a career, encourage more people to join the profession, enhance the role of the veterinary nurse and offer more opportunities for career progression.

This launch of the VN Futures Interim Report marks the culmination of the initial five-year phase of the project and makes several recommendations to continue the positive steps already taken to improve the profession.

Director of veterinary nursing, Julie Dugmore, commented: "This is just the first step of the project, and we will be developing a number of new projects over the coming months and years to support this incredible profession that I'm proud to be a part of.

"We would like to thank everyone who has been involved with the VN Futures project, from the initial VN Futures Action Group and the various VN Futures Working Groups to those individuals who have directly contributed content. We couldn't have achieved as much as we have without your support. Thank you for all the time, expertise and enthusiasm you have given to the work of the project over the past five years".

Key achievements
One activity delivered as a result of the VN Futures Project was the introduction of a School Ambassadors Development Programme.

Launched in 2019 following feedback that many RVNs did not learn about the profession at school, the Schools programme aims to get children interested in the profession from an early age. The report outlines how activities like this are vital for ensuring veterinary nursing is a sustainable profession.

The report also covers the outcomes of the VN Futures goal of maximising veterinary nurse potential, creating new routes for post-registration qualifications and supporting the Legislative Working Party (LWP) proposed changes to introduce protections for the VN role.

The project found that many veterinary nurses were interested in meaningful career development and wanted to develop their skills in certain areas but did not always feel these were available.

VN Futures addressed this by developing the framework for the new Certificate in Advanced Veterinary Nursing in 2019, giving veterinary nurses the chance to study for a post-registration qualification at Level 6 or Level 7 in the discipline of their choice.

Ideas for development
Another area highlighted by the report is the need to attract a diverse workforce. It states that 'incorporating as many different backgrounds, experiences and perspectives as possible into the profession can only benefit the team, pet owners and animal welfare.'

Among the ideas developed to address this include the launch of the Chronic Illness Campaign and the development of a dedicated group aimed at increasing diversity in the profession.

Financial remunerations, lack of progression and the struggle to maintain a good work/life balance are just some of the challenges for the VN profession highlighted by the report.

"The culmination of years of hard work"
VN Futures project coordinator, Jill Macdonald, commented: "The VN Futures Interim Report is being released during a significant year for the profession. As well as celebrating the past achievements of the profession during our Diamond Jubilee celebrations, this year has shown us that we also have a lot to look forward to, as we reached 20,000 VNs on the Register and the first VN Practice Standards Scheme Assessor, Renay Rickard, was appointed.

"The report is a culmination of years of hard work, putting in place measures to champion the veterinary nursing profession and safeguard it for the future. Through the introduction of initiatives like the School Ambassador Development Programme and the introduction of the CertAVN, to name but a few, we have put in place steps to inspire the next generation of veterinary nurses and support the training and development of people currently working in the profession."