Tapeworm 'a significant pathogen in young horses'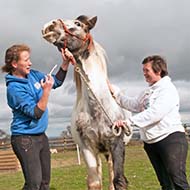 Owners urged to keep a close eye on tapeworm infections in their animals.
Tapeworm should be considered a significant pathogen in young horses, according to findings presented at the recent equine colic symposium (4-7 September).

Researchers investigating individual colic cases in four yearlings found that cases occurred over several years at a well-managed thoroughbred stud farm. Two of the yearlings required euthanasia, while two made a full recovery.

A post-mortem of three yearlings revealed large live tapeworm infections, and three of the cases suffered ileocaecal intussusception - where a section of the intestine slides inside an adjacent section. This finding was despite the yearlings being given praziquantel at six and 12 months of age.

Researchers were most concerned two of the live tapeworm infections were found days after the yearlings had received the praziquantel, thereby raising suspicions of drug resistance.

Lead veterinary surgeon Jess Spanton, a specialist in internal medicine at House and Jackson Equine Hospital, explained: "While this case study hasn't generated firm conclusions of praziquantel resistance, the large live tapeworm infections discovered days after treatment are very concerning, suggesting that a level of resistance to anti-tapeworm treatments is a strong possibility."

Ms Spanton suggests that tapeworm infections should be closely monitored, particularly in young horses, to prevent suffering from serious diseases.

"The benefit of testing for tapeworm is that anti-tapeworm dosing frequency and management practices can be altered in response to results, and in some cases may identify whether there is a potential for resistance," she said.