Study reveals insights on bacterial infections in dogs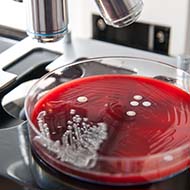 Findings could help to better manage the treatment of common diseases.

Researchers at the Royal (Dick) School of Veterinary Studies have revealed new insights into bacteria that could improve understanding and management of common infections in dogs.

In their study, published in the Journal of Medical Microbiology, scientists analysed and compared DNA from samples of Staphylococcus coagulans bacteria collected from infected dogs to better understand how the bacteria spread and cause infection.

Through their analysis, researchers were able to pinpoint bacterial strains that are closely related, are likely to be spreading, and in which part of the world they are likely to be found.

The team hopes the insights could help improve the management of diseases caused by the bacteria, such as skin, ear and urinary infections, and mitigate the rise of antimicrobial resistance.
They also believe the findings could support using DNA analysis of bacteria in individual cases to guide diagnosis and treatment by the type of bacteria present.

Dr Gavin Paterson, a senior lecturer in molecular and applied microbiology at Dick Vet and the Roslin Institute, explains: "Finding new species of this important family of bacteria adds to our knowledge base, while our DNA analysis of S. coagulans gives us high-resolution insight into their family tree, which shows how the strains are spreading and the types of treatments we can use that will be effective without exacerbating the rise in antimicrobial resistance.

"These findings also support the use of genome analysis to identify the bacteria present in individual cases, enabling targeted treatment."