New blood test for heart disease in companion animals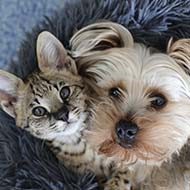 Test has the potential to 'revolutionise' veterinary diagnostics.

Researchers in Scotland are developing a revolutionary new blood test for companion animals that detects the early stages of heart disease.

The test is being developed by MI:RNA Ltd – a spin-out firm of Scotland's Rural College - to accurately identify heart disease in cats and dogs before the appearance of symptoms.

It works by collecting a simple blood sample, which is then analysed by artificial intelligence (AI) for biomarkers of cardiovascular disease.
Researchers say the test, 'NEMO' (NExtgen Mirna testing with Optimisation), could 'revolutionise' veterinary diagnostics by allowing for the earlier detection of disease.

"The next few months are incredibly exciting for MI:RNA Ltd as we launch our first product," commented MI:RNA CEO, Dr Eve Hanks.
"Our team has pulled together to work towards a successful launch and, luckily, we have a great veterinary community behind us. We will continue our relationship with SRUC as we begin our production animal research and identify new disease targets."

MI:RNA intends to expand its reach globally to support owners, farmers, animals, and the environment.

While the initial test focuses on utilising blood samples from animals, it has the potential to be used with milk, faeces, urine or saliva.

Scientists are conducting further studies to adapt the test for use in farm animal production, initially to detect Johne's disease in cattle and later, cardiac testing for the equine market.