Moredun Foundation awards honorary fellowships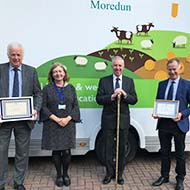 The fellowship recipients are Gareth Jones and William Stewart.
The Moredun Foundation has awarded honorary fellowships to Gareth Jones and William Stewart at its AGM.

Jones and Stewart were awarded the fellowships on Thursday 2 September, for outstanding contributions to the Moredun Group.

Chairman of the Moredun Foundation, Gareth Bird, said at the AGM: "It is a huge honour to be able to recognise the contribution of people who really have made a difference.

"This year's recipients have done just that in promoting the work of the Moredun Foundation in the North of Scotland and in Wales and helping to promote the connectivity between the livestock industry in its widest sense to the scientific research conducted at Moredun.

"We are delighted to recognize the outstanding contribution of both Willie Stewart and Gareth Jones."

William 'Willie' Stewart, graduated in 1973 from the Royal (Dick) School of Veterinary Studies in Edinburgh, and has worked in large animal practice, been involved in Scrapie eradication in Orkney and Shetland, and has worked on long distance sea transportation of sheep and cattle from the islands to Aberdeen.

Willie has also previously been the chairman of the Orkney Agricultural Discussion Society. He is a member of of the main Moredun Foundation Board, and is currently Chairman of the Moredun Foundation's North of Scotland Regional Board.

Gareth Jones gained a HND in Agriculture from Aberystwyth in 1982, and has since managed farms in mid Wales, and worked as a beef specialist with the Meat and Livestock Commission.

He is now the farm manager at Rhug, a large organic estate in North Wales which has developed its own retail business over the past ten years.

A Hybu Cig Cymru (HCC) Scholar, Gareth is also a Fellow of the Royal Agricultural Societies (FRAgS), and is a member of the main Moredun Foundation Board, alongside being the current Chairman of Moredun Foundation's Welsh Regional Board.

Gareth has also been Chair of the Regional Chairs group for several years.