New ovine enzootic abortion vaccine in development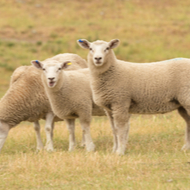 The work is led by Dr David Longbottom, of the Moredun Research Institute.
Scientists at the Moredun Research Institute are developing a new vaccine against ovine enzootic abortion.

Ovine enzootic abortion is the most common cause of abortion in sheep in the UK, and is caused by the bacteria Chlamydia abortus, which invades the placenta during pregnancy. The disease can also cause life-threatening illness and abortion in humans.

The disease spreads through ingestion and inhalation, and a high level of environmental contamination by infected ewes in lambing pens is a key point in the spread of disease.

Led by Dr David Longbottom, the scientists at Moredun have completed the first stage in the development of the vaccine, which is similar to the live variation, but does not possess the ability to grow and cause infections in the host animal.

Dr Longbottom commented on the ongoing development process: "We are very encouraged that the new vaccine results in a similar protective response to that generated following a natural infection or resulting from the live vaccines but importantly without the ability to cause disease."

More about the vaccine can be read in this study, published in Vaccines.