Geronimo euthanised after four year legal battle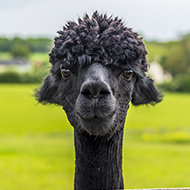 The now-famous alpaca was euthanised by officials on 31 August.

Geronimo the alpaca, who was ordered to be euthanised by Defra, has been killed, as reported by BBC News.

The alpaca, who has been at the centre of a legal row with the government, tested positive for bovine tuberculosis (bTB) in two tests four years ago, after arriving in the UK from New Zealand.

Yesterday (Tuesday 31 August), Defra officials, accompanied by police officers, forcibly removed Geronimo from Wickwar farm, and shortly after, Defra confirmed that the animal had been euthanised.

Defra has confirmed that a postmortem examination will be carried out by veterinary pathologists from the Animal and Plant Health Agency (APHA).

The alpaca's owner, Helen Macdonald, told BBC News: "We know now they have been stringing us along for the last week, fobbing us off by saying people are on holiday and would get back to us this week.

"In fact, all the time they were simply planning to murder Geronimo. This is yet another appalling demonstration of bad faith and duplicity by the secretary of state and everyone at Defra.
"Geronimo has been manhandled out of my farm. He was rounded-up and dragged into a horsebox."
Chief veterinary officer Christine Middlemiss told BBC News: "Not only is this essential to protect the livelihoods of our farming industry and rural communities, but it is also necessary to avoid more TB cases in humans.

"No-one wants to have to cull infected animals if it can be avoided."