New online CPD otitis podcast created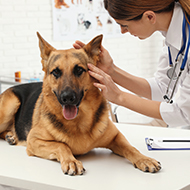 Dechra Veterinary Products has added the podcast to its learning platform.
A new 15 minute podcast on treating animals with otitis has been created by Dechra Veterinary Products. Featuring general practice vet Carolyn Kyte and veterinary dermatology specialist Natalie Barnard, the two vets will discuss their experiences treating otitis, and why owners are significant in successful treatment.

Dechra Brand Manager Carol Morgan commented: "What Carolyn and Natalie bring to the table with their new podcast for the Dechra Academy is a light and insightful discussion about communication and education being the keystone for better otitis outcomes and how vets can improve on their consultation skills to handle cases better."

The podcast, called 'Think Differently about Otitis', is available to access for free on the Dechra Academy on-demand learning platform here.