Study highlights impact of COVID-19 on equine laminitis management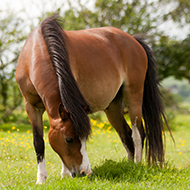 Researchers call for collaborative approach to new care guidelines.

A new study has highlighted the impact of the COVID-19 pandemic on the management of horses and ponies susceptible to obesity and laminitis.

The findings, published in the journal PLOS One, underscore the need for guidelines on the care of horses and ponies susceptible to these conditions, particularly during any future lockdowns.

In the study, researchers set out to identify the challenges faced in implementing COVID-19-based guidance and ascertain the areas of decision making that could be improved in a future pandemic.

Lead author Ashley Ward, a PhD student at Scotand's Rural College (SRUC), said: "We discovered that lockdown-associated factors had the potential to compromise the welfare of horses and ponies at risk of obesity and laminitis. These included: disparate information and guidance, difficulties enacting public health measures in yard environments, and horses having reduced exercise during the pandemic.

"Our conclusion was that guidelines should be developed for the care of horses and ponies at risk through collaborative input from veterinary and welfare experts. This would help to reduce the negative impacts of future lockdown events in the UK."

Scientists hope their findings will inform future discussions on public health measures that may impact equine welfare in the UK. The team recommends that policymakers should include an appreciation of the interaction between the time of year and equine welfare during any future lockdown events.
The research was conducted by Scotland's Rural College in collaboration with the Waltham Science Institute.