Rescue dogs create artwork for fundraiser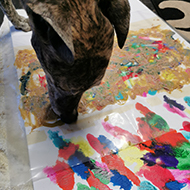 The animals at SARA have been painting with peanut butter.

Dogs at an animal rescue centre in Redcar have been busy making artwork to auction off for the charity.

Volunteers at Saving and Rehoming Animals, or SARA for short, in Redcar, North Yorkshire, were 'very impressed' with the paintings created by their residents, saying that they 'never expected' the paintings to look so impressive.

Created using a canvas, non-toxic paint, plastic sheets, and doggy peanut butter, the art was created by the dogs licking the peanut butter off the sheet, and moving around the paint underneath.

Centre manager Abigail Armstrong came up with the clever fundraising idea after watching a dog on Instagram painting with a similar technique. She said: "The pandemic has had a huge impact on our charity, we weren't able to re-home any animals at all during the first lockdown and we have lost more than a year's worth of events that we hold at the centre and in other venues and we haven't been able to do street collections."

Not only did the dogs create some beautiful artwork, the volunteers at SARA also gave them artist names, including Shelly Botticelli, Oscar Van Gogh, Coco Matisse, and Ruby Kahlo!

And it wasn't only the dogs at SARA who got artistic, the cats and rabbits in SARA's care also tried their hand at painting, with these also being auctioned on 14 August.

Abigail commented on the auction: "The Animal Artists Auction will be going on alongside our Craft Fayre; there will be table top sales, a cafe serving food and refreshments and a BBQ.

"It's a dog friendly event so that people can bring their pooches with them. Myself and the other staff members will be hosting the auction so that's exciting. Hopefully we will see people who have adopted from us too, that's always a highlight. We are a relatively small charity and hope it'll bring in some much needed funds and be a great day for everyone."

The auction is taking place on 14 August at 12pm, and bids can be made online. More information can be found on SARA's facebook page.
Image (C) SARA