Report warns of behaviour problems in pets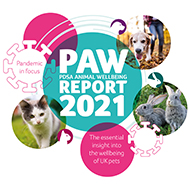 PAW Report 2021 provides unique insight into the impact of the pandemic on pet wellbeing.
Almost 18 months since COVID-19 took hold, a leading veterinary charity is highlighting the impacts of the pandemic on the health of the nation's pets.

According to the 2021 PDSA Animal Wellbeing (PAW) report, lockdown restrictions resulted in missed opportunities to socialise pets during vital stages of their development - and could be now be creating behavioural issues as the pet reaches adolescence and adulthood.

The report reveals that 27 per cent of dogs and 34 per cent of cats obtained since the pandemic began are showing behaviours that could be related to a lack of socialisation.

In dogs obtained since the pandemic began, 15 per cent are showing signs of fear, and 11 per cent are growling, snapping, or biting unfamiliar dogs. The story is similar for cats, with 16 per cent of felines displaying timid, scared or nervous behaviours, 11 per cent hiding, and 10 per cent displaying aggressive behaviour toward their owners.

"The COVID-19 pandemic has presented a number of new challenges for the veterinary sector to contend with, and our eleventh PAW Report has given us unique insight into the impact of the pandemic on pet wellbeing in the UK," commented Richard Hooker, PDSA director of veterinary services.

"With the PAW Report, we're in a privileged position to be able to delve into the facts and feelings of pet owners across the UK, many of whom it appears have navigated this difficult time with a new pet under their wing – and may not have always had access to the socialisation opportunities they needed," he continued.

"Our data has shown that some of the behavioural issues identified in our 2020 Report have continued, and could negatively impact pet welfare as we begin to emerge from the various lockdowns and our pets are required to interact with unfamiliar people, animals, and environments.

The survey also found that 10 per cent of owners who acquired their pet since the start of the pandemic obtained their pet from abroad, compared to just three per cent who purchased their pet before the start of the pandemic.

Two per cent of owners who purchased their dog from abroad reported doing so because they wanted a dog with cropped ears, and three per cent because they wanted a dog with a docked tail.

But it is not all bad news. Figures show that cat and rabbit populations overall have remained at a steady level compared to before the pandemic in February 2020.

Two million pets were acquired over a 14-month period from March 2020 to May 2021, the report shows. Twenty-three per cent of these owners reported that lifestyle changes due to the pandemic meant it was a good time for them to get a pet.

Mr Hooker added: "It's reassuring to note that there hasn't been an explosion in the UK pet population as feared, with the figures remaining stable and in line with previous years' results.