iCatCare promotes cat carrier training for vet visits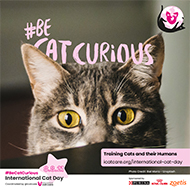 The charity is marking International Cat Day with the programme.

International Cat Care (iCatCare) is celebrating International Cat Day 2021 (8 August) by promoting cat training in order to reduce the stress of veterinary visits.

In an initiative supported by Zoetis, iCatCare has chosen the theme '#BeCatCurious – Training for Cats and their Humans' to mark International Cat Day 2021.

A recent survey by iCatCare found that 50 per cent of cat owners struggled to get their cat into a cat carrier, whilst 95 per cent of cat owners felt that they would like more advice on how to train their cat. The survey found that struggling to get a cat into a carrier was a major barrier for some owners in getting their cat to the veterinary practice.

Responding to this, iCatCare has launched a free programme of events to help cat owners to train their pets to be more comfortable with cat carriers, in order to train their cats to voluntarily enter a cat carrier to limit the stress of vet visits on the cat.

Nathalie Dowgray, Head of the International Society of Feline Medicine (ISFM), commented: "Regular visits to the vet are important for maintaining a cat's physical health but getting them into a cat carrier isn't always easy. Training cats to be happy and comfortable with entering and traveling in a cat carrier is key to helping both cats and their owners reduce the stress of transport to the vets."

In support of the programme, Chief medical officer at Zoetis Dr Michael McFarland said: "Cats are intelligent animals and we want owners to know that they respond well to training. The ICC survey found that owners who use positive training and rewards find it much easier to get their cats into a carrier, so we are delighted to support the #BeCatCurious campaign this year.

"Encouraging owners to be more curious and to learn something new with their cat can not only strengthen the bond between them but also make life easier and healthier for cats and their owners.
"By adopting ICC cat-friendly principles we can help ensure that cats stay healthy and live the best life possible."
The programme of events began on 19 July and will continue up to International Cat Day on 8 August. Materials and information are accessible at icatcare.org/international-cat-day