RCVS holding mental and physical health webinars throughout summer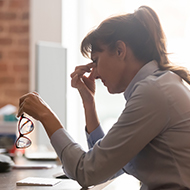 Expert speakers will provide practical tips on how best to support colleagues.
The RCVS Mind Matters Initiative (MMI) has announced a new programme of webinars exploring the mental and physical health issues affecting veterinary professionals.

Taking place across August and September, the expert-led sessions will provide practical tips on how veterinary professionals can support their colleagues' mental wellbeing, manage their own mental health, and help to create healthier working environments.

Among the topics to be discussed include chronic illness, managing stress, ADHD and perfectionism. There will also be a session looking at the remarkable work of the veterinary charity, StreetVet.

"We are really pleased to offer an incredible programme of webinars for our colleagues working in all areas of veterinary practice," commented Lisa Quigley, MMI manager. "We want to thank our amazing speakers for being part of our webinar series and offering us their time, expertise, and insight.

"MMI is passionate about helping the veterinary profession to be as welcoming as possible, which means making sure we all know how we can best support our colleagues and make our working environments inclusive. Every webinar in this series will be a valuable and informative insight into some of the issues that impact on veterinary mental health and wellbeing, and I encourage as many people as possible to attend the sessions."

More information about each talk and when they are taking place is available at: vetmindmatters.org/events. Links to the webinar recordings will be made available on the MMI website after the event.