Covid-detection dogs study receives funding boost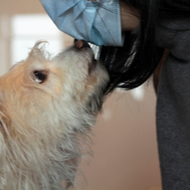 Dogs could play a vital role in preventing the future spread of the pandemic.
UK charity Medical Detection Dogs has received a share of $1 million (£722,000) from the Royal Canin Foundation towards training dogs to detect COVID-19 in humans.

The organisation is working in partnership with the London School of Hygiene and Tropical Medicine and Durham University on the project, which could play a vital role in preventing the further spread of the pandemic in future.

"The nomination for Medical Detection Dogs, COVID Research was submitted by Royal Canin Associates, and every Associate is given the opportunity to vote for those that they believe should be supported by the Foundation," explained Suzy Roffey, professional national sales manager at Royal Canin. "We were ecstatic that the nomination won the vote and extremely proud of the ongoing work we do in partnership with the organisation."

Medical Detection Dogs announced earlier this year that bio-detection dogs can quickly and non-invasively sniff out COVID-19 in people with up to 94 per cent accuracy -
even if they are not showing any symptoms.

The team hopes that, once fully trained, the dogs could be deployed at airports, concert venues and sports stadiums to supplement ongoing testing.

Dr Claire Guest, chief scientific officer at Medical Detection Dogs, said: "Knowing that we can harness the amazing power of a dog's nose to detect COVID-19 quickly and non-invasively gives us hope for a return to a more normal way of life through safer travel and access to public places so that we can again socialise with family and friends."

Founded in December 2020, The Royal Canin Foundation provides financial and organisational support to projects across the globe. Its three areas of focus are: the health and welfare of working dogs, pets in support of medical health and pets in support of human mental health.

Medical Detection Dogs research is one of five projects that will receive a share of the US $1 million funds.