ADCH and Royal Canin highlight struggling animal rescues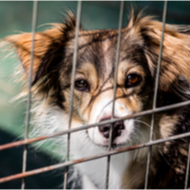 The two companies are raising awareness of the post-lockdown financial struggles in animal welfare.
The Association of Dogs and Cats Homes (ADCH), is raising awareness of the struggles that animal rescues still face post-lockdown, due to the pandemic.

Alongside Royal Canin, ADCH is highlighting the financial struggles of animal rescues, animal charities, and pet food banks, which saw their income plummet after COVID-19 restrictions limited fundraising opportunities.

As a representative of 153 animal rescues and charities from over the UK and Ireland, ADCH surveyed its members three separate times over the course of the pandemic, in order to consider the damage done by COVID-19 on the rescue sector.

The outcome of the surveys suggested that animal rescue centres were losing up to half of their income throughout the pandemic, and several had funding pressures which led to the loss of staff through downsizing.

Speaking on how ADCH has helped to prevent these rescues from shutting, ADCH chair Giles Webber said: "We knew from our surveys that rescues were finding it difficult with the closure of shelters and outside fundraising events so ADCH immediately set up a grant system that distributed 54 grants to struggling rescues totalling over £300,000.

"Whilst many organisations had to downsize their staff levels, we are delighted that none so far have closed which is testament to their resilience and the hard work of ADCH."

Royal Canin has also assisted in keeping rescues and pet food banks open, by donating £200,000 of pet food to various places across the UK and Ireland.