Trials underway for new cattle vaccine and bTB skin test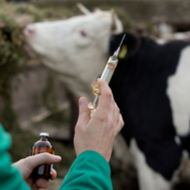 Chief vets state that a working vaccine could be deployed by 2025.

Groundbreaking field trials are underway in England for a cattle vaccine and a new skin test for bovine tuberculosis (bTB), the Animal and Plant Health Agency has announced (APHA).

Scientists hope that the vaccine will bring vets and farmers a step closer to protect their animals against the disease, helping to save thousands of cattle every year that would have otherwise been culled.

The accompanying skin test also represents a major breakthrough, by allowing vets to identify cattle that have been vaccinated and those that are infected with the disease.

In a joint statement, the UK's Chief Veterinary Officers said that, if the trials completed successfully, then a working cattle vaccine could be deployed by 2025:

"Bovine Tuberculosis represents one of the most difficult animal disease challenges we face today. However, the start of these ground-breaking field trials will be welcome news for many farmers who have been greatly impacted by this disease and represents an important step forward in our efforts to deploy a working cattle vaccine by 2025.

"If successful, the world-leading project could lead to the first-ever deployment of a cattle bTB vaccine and DIVA skin test and will be instrumental in turning the tide against this terrible disease which impacts many countries around the world."

More than 36,000 cattle in England and Wales have culled in the last year in a bid to tackle bTB, at a cost of around £100 million to the taxpayer.

But the Badger Trust - which has long campaigned for serious investment in a cattle vaccine - states that some 140,000 badgers have also been slaughtered since 2013, when the lethal culling of badgers became the primary control method in England.

Dawn Varley, acting CEO of the Badger Trust, cautiously welcomed the trials, adding: 'Whilst we welcome the pilot and talk of a hoped-for roll out by 2025, this news is too little, too late for the badgers already lost to years of misguided culling.

"With 140,000 badgers killed since 2013, and with culling set to continue to 2025 as confirmed by the Government earlier this year, we estimate another 140,000 badgers are still to be shot to control what is primarily a cattle spread disease.

"We've been calling for serious investment in a cattle vaccine for over 10 years. bTB is a cattle disease, spread by cattle to cattle, and primarily through cattle movements from farm to farm. It's only by addressing the disease in cattle that the battle will be won."

The first phase of the trials is taking place at a bTB-free farm in Hertfordshire to ascertain the accuracy and safety of the DIVA skin test, with more herds across England and Wales to join them over the coming months.

If successful, the study will then expand to more farms in England and Wales to test both the Cattle BCG vaccine and DIVA skin test together.