New contracts for Veterinary Delivery Partners awarded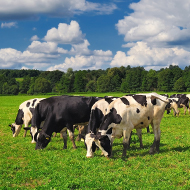 TB testing in England and Wales to be delivered under new APHA contracts.
Statutory tuberculosis testing and other government veterinary services in England and Wales will be delivered under new Animal and Plant Health Agency (APHA) contracts for Defra and Welsh government from 1 June 2021.

Since 2015, Regional Veterinary Delivery Partners (VDP) have been providing services on behalf of APHA for Defra and Welsh Government, and it is expected that there will be a seamless transition with the new contracts awarded to an existing VDP following an open tender in autumn 2020. These new contracts will at run initially until 2024.

Out of the six VDP regions, four are in England, and two in Wales, and from 1 June, any and all new instructions for work are being allocated to the VDP responsible for delivery under the new contracts. VDPs are also required to work with all the qualifying veterinary business which operate within their geographical region.

As such, a keeper's own veterinary practice will deliver services wherever that is possible, and this acknowledges the importance of and impact that local veterinary professionals have on disease prevention and control in England and Wales.

Alongside the official veterinary surgeons, TB testing in England can be carried out by Approved Tuberculin Testers authorised by APHA, as set out under the new contracts.

The new contracts do not only set out the TB testing delivery, but also broaden the range of veterinary and technical services which are provided, including functions to compliment APHA's work in the exotic disease control field and the welfare of farmed animals.

Notably, the new contracts aim to further strengthen the quality assurance through enhanced audit and performance management procedures.

Christine Middlemiss, the UK chief veterinary officer, said: "These new contracts focus rightly on further strengthening the quality assurance of services delivered by our Veterinary Delivery Partners. The VDP contracts are an essential part of delivering our TB disease control policy in England."

The regional Veterinary Delivery Partners from 1 June are:
North Wales: Menter a Busnes
South Wales: lechyd Da (Gwledig) Ltd
Devon and Cornwall: Farmcare Devon & Cornwall Ltd
Western England: Farmcare West Ltd
South and Eastern England: Farmcare Central Ltd
Northern England: Farmcare North Ltd.
APHA will continue to send the tuberculosis test notice letters, which inform the keeper which VDP supplier is responsible for delivering the test, but it remains the keeper's responsibility to arrange the TB testing, and they should continue to contact their usual veterinary practice to make the arrangements.