Cat food recalled over link to pancytopenia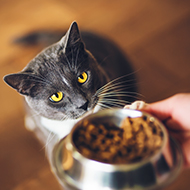 Concerned owners are being urged to seek veterinary assistance.
Pets at Home, Applaws and Sainsbury's are recalling a number of dry cat food products over a possible link to a rare and fatal disease of felines.

Owners that have bought the products, manufactured by Fold Hill Foods, are being urged to stop feeding them to their cats and to return them to the store in which they were purchased.

The Food Standards Agency and Fold Hill Foods state the products could be linked to a spike in cases of pancytopenia, as reported by the RVC earlier this month.

Dr Barbara Glanemann, a senior lecturer in transfusion medicine and Emergency Critical Care at the RVC, said: "Typically, we may see one case of this per year, but we have seen now ten cats with severe pancytopenia in the last four weeks.

"Most have had severe generalised bone marrow hypo- to aplasia. Some cats have presented at the same time from the same household. Given the rarity of this condition, the clustering of these cases is concerning."

A full list of the affected products is available on the Fold Hill Foods website. The Food Standards Agency said notices will be displayed in all retail stores that are selling these products to explain why the products are being recalled.

It has also advised cat owners concerned about the health of their pet to seek immediate advice from their vet.