Genetics insights in chickens could tackle food poisoning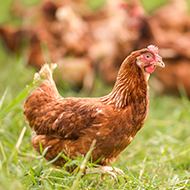 Scientists identify genes that may influence resistance to Campylobacter.
Researchers at the University of Edinburgh's Roslin Institute have identified key genes in chickens that may provide resistance to harmful bacteria responsible for food poisoning in humans.

The study published in BMC Genomics found a large number of genes in the guts of chickens that may determine whether birds are resistant to Campylobacter.

Scientists say the findings could inform future research into breeding chickens that are at reduced risk of carrying Campylobacter, and could therefore mitigate the risk to consumers.

"Campylobacter is present in more than half of chicken sold, representing a significant risk to consumers, and breeding poultry resistant to the bacteria is one potential way to tackle this," commented study author Professor Mark Stevens.

"Our research is shedding light on how the genetic make-up of chickens influences their response to the bacteria, which could inform ways to breed poultry resistant to Campylobacter and thereby improve food safety."

Building on previous research, this study tested the effects of Campylobacter infection on chickens bred to be resistant or susceptible to the bacteria. Analysis of the chickens' gut tissue revealed variations in a large number of the genes, including one involved in immunity.

Scientists say the difference between these genes in susceptible and resistant chickens could in part explain their response to Campylobacter.