Vets respond to government's TB control strategy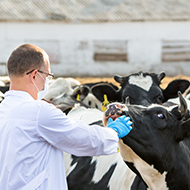 Plans suggest that intensive culling could end after 2022.

The British Cattle Veterinary Association (BCVA) has responded to government plans to tackle bovine tuberculosis (bTB) in England.

On Thursday (28 May), Defra announced a raft of new measures to eradicate the disease in England by 2038, including work on badger vaccination, increased cattle testing and the acceleration of a cattle vaccine.
The plans, which follow an eight-week consultation, also suggest that licensing of new intensive culls will end after 2022, and that existing cull licenses could be cut short after two years.
In a statement, BCVA welcomed some of the control measures but expressed concern over plans to cease the issuing of new licences.

"We were pleased that some of the planned measures are in line with our recently published bTB document and consultation responses, and we can broadly support some of the proposals during this consultation," the organisation said. "However, in our consultation response, we cited serious concerns surrounding the lack of significant evidence to support a change to the current wildlife control strategy.

"BCVA illustrated how several proposals could cause disruption to ongoing trials, or even cause regression in the progress that has been made to reduce incidents of bTB on farms throughout the UK, inflicting further hardship on the farming industry, who are already crushed by the impact of this devastating disease."

It continued: "A strategy with proven efficacy could unravel, with regressive results and serious loss of engagement within the farming industry. Consequently, BCVA has serious objections to the proposal that recently issued licences could drop from four years to just two years."

Under the new plans, Defra also announced funding for a five-year badger vaccination pilot in East Sussex to enable farmers to deploy vaccinations over an area of 250 square kilometres.

The BCVA writes: "BCVA of course supports evidence gathering for large scale, farmer-led vaccination and accepts the Government's intention to pilot badger vaccination in an area where the four-year cull cycle has concluded. This would be on the basis that there is simultaneous surveillance of disease and data collection to review vaccine efficacy.

"BCVA is not alone in calling on the government to further develop the evidence base for badger vaccination before seeking to remove the option of badger culling, warning that areas may lose the option of supplementary badger culling (SBC) before this can be developed."