Chester Zoo scoops prestigious volunteer award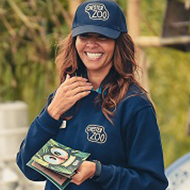 Zoo is the first in UK to achieve 'Investors in Volunteers' status

Chester Zoo has become the first zoo in the UK to win a prestigious award for its work with volunteers.

The Zoo scooped the nationally important 'Investors in Volunteers' award following a 15-month consultation confirming the zoo's value and commitment to its volunteers.

The award aims to improve the quality of the volunteering experience offered by organisations across the UK and underscores the value of volunteers to the charity's mission to prevent extinction.

"As a major UK wildlife charity, the support we receive from our volunteers is invaluable," commented Lindsay Marston, volunteer manager at Chester Zoo. "This award shows our current and future volunteers that we're committed to ensuring they have the very best experience when they volunteer with us. We're very proud to be the very first zoo in the UK to achieve this accolade."

Chester Zoo's volunteers play a significant role in animal conservation by highlighting different species and the conservation actions underway to protect them. In a typical year, the zoo welcomes more than 250 volunteers in various positions, but COVID-19 spurred a change in how it engaged with and supported its volunteers.

"In the wake of the global pandemic we had to adapt the way we worked with volunteers and lots of our consultation work moved online," Lindsay explained. "We introduced 'micro-volunteering, as it became apparent that a lot of our volunteers felt isolated and alone during lockdown."

Despite the zoo's closure, the volunteers were able to continue their work from home, by fact-checking educational signage or creating wildlife spaces in their gardens.

"Some of our volunteers are in their later years and, for them, volunteering is a huge part of their lives," said Lindsay. "We really recognise the mutual benefits that volunteering gives, so by keeping them engaged with other activities while the zoo had to close helped to make them feel motivated and valued."