BEVA resumes face-to-face learning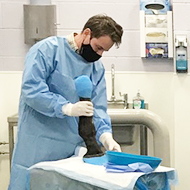 In-person CPD courses will run alongside digital lessons

BEVA's popular CPD courses are set to resume this month, with face-to-face lessons running alongside digital learning.

After more than a year of COVID-enforced online CPD, members and non-members will soon be able to take advantage of a wide array of hands-on, in-person courses, including the BEVA fundamentals series.
Together with the practical learning, there will also be a series of online courses with new content being added regularly.

A BEVA spokesperson said: "Strict COVID safety precautions are in force for each course; pre-course lateral flow tests are compulsory for all attendees, numbers are strictly limited, facemasks are required and hand sanitation sites are available."
A list of the available courses is below. For more information and to sign up, visit beva.org.uk/CPD1

Upcoming practical courses
fundamentals of lameness, laminitis and farriery, 20 May
fundamentals of radiography and ultrasound 6 June
BEVA Approved: BARTA veterinary responder course, 14 June
pre-purchase examination – the essentials, 6 July
the equine back, 10 July
fundamentals of the skin, eyes, medicines and difficult moments, 21 July
fundamentals of sedation, field anaesthesia and castration, 15 September
event incident management, 30 September
fundamentals of equine emergencies, 6 October
pre-purchase examination – the essentials, 18 October
foot and farriery, 8 November
fundamentals of gastroenterology, 11 November
interactive cardiology workshop, 11 November
fundamentals of dentistry, 20 November
dentistry – the next steps, 21 November
equine ophthalmology, 29 November.
Upcoming online courses
from superfoods to supplements: how to know more than the owner, 7 July
advanced theoretical equine dental technicians course, 19 August
advanced theoretical equine dental technicians course – online discussion only in preparation for the BEVA/BVDA examination, 19 August
advanced imaging discussion forum, 14 October
advanced reproduction discussion forum, 1 December.