Mars Petcare making significant progress towards fish sourcing goal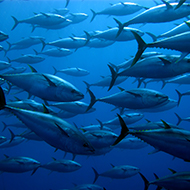 Pet food company now sources 81 per cent of fish used from more sustainable sources.

Mars Petcare has announced that it is advancing towards its commitment to procure 100 per cent of fish for some of its pet food recipes from more sustainable sources.
In 2010, the company partnered with the World Wildlife Fund (WWF), setting the target of seeking 100 per cent sustainable sources of fish.
A new joint report from Mars Petcare and the WWF details the work that has been done over the past decade to achieve this goal. In this report, the company confirms that it now sources 81 per cent of fish used from more sustainable sources and it sources no endangered fish species.
The WWF and Mars Petcare have renewed their global partnership until 2025; Both to advance Mars' sourcing goals and to influence the fishing sector to move towards sustainability.
Mars Petcare states that it is working with organisations such as the Marine Stewardship Council, Monterey Bay Seafood Watch and the Aquaculture Stewardship Council. As it continues to work towards its goal, the company will regularly evaluate where it sources its fish, the types of fish used, and practices across its supply chain.
Professor David Smith, chief marine scientist at Mars, Incorporated, said: "As we prepare for a future of more than 10 billion people and more pets, sustainable business practice which is led by science and cares about the planet and our oceans is essential.
"When we cemented the partnership with WWF over a decade ago, we were deeply aware that many fisheries around the world were on the verge of collapse and that several fish species were critically endangered and threatened by extinction.
"As we continue to play our part in supporting a future for ocean ecosystems, we are focused on sourcing from sustainably managed fisheries using no endangered species according to the IUCN Red List."